Optimizing Costs in Cloud Hosting: Tips and Best Practices
As businesses continue to migrate their operations online, it's becoming increasingly important to understand the intricacies of hosting solutions like cloud hosting. However, while cloud hosting has numerous advantages, including scalability and reliability, it also brings its own set of cost challenges. In this guide, we'll delve into how you can optimize your costs when using a cloud server, whether you're in Dubai, the broader UAE, or anywhere else in the world.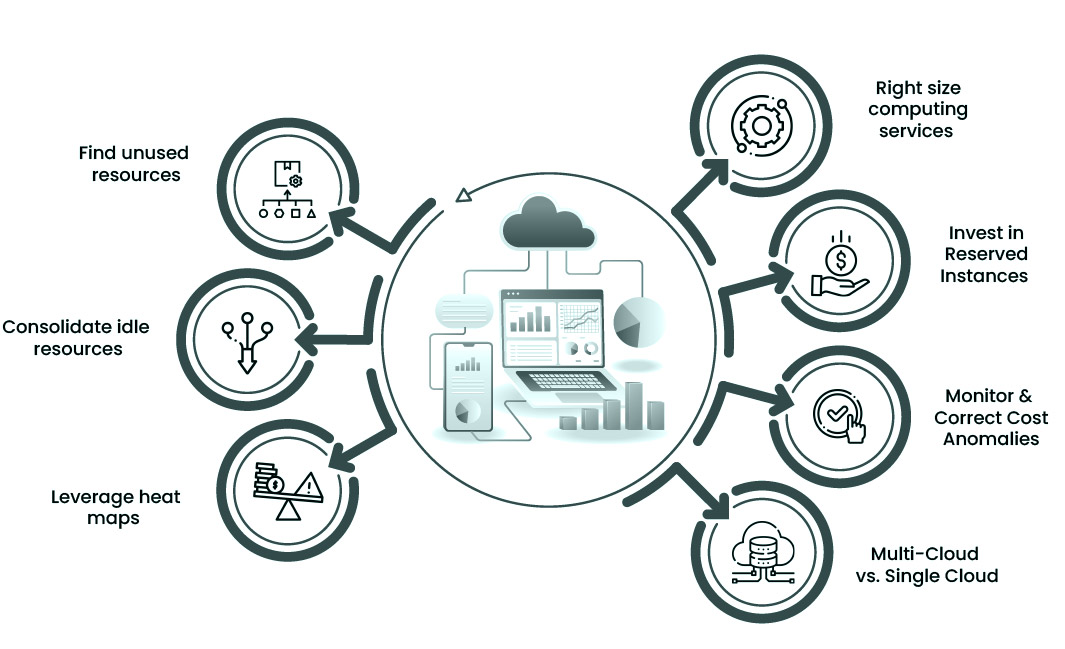 Understanding Cloud Server Costs
Before we get into cost optimization, it's important to understand what contributes to the cost of a cloud server. Factors such as data storage, outbound data transfer, and the computational power of your server all contribute to the overall cost. In addition, some managed cloud server providers charge extra for premium features like automated backups, advanced security, and technical support.
Best Practices for Optimizing Costs in Cloud Hosting
1. Right-Sizing Your Cloud Server
Right-sizing involves adjusting your cloud resources to align with your business needs. This might mean downgrading your server if you're not using its full capacity or upgrading it if you need more power. For instance, if your business is located in Dubai and you're using a cloud server UAE based, you could look into whether you're utilizing all your current resources. If not, downsizing could lead to significant savings.
2. Taking Advantage of Scalable Solutions
One of the key advantages of cloud hosting is its scalability. Rather than paying for a static amount of storage or bandwidth, you can adjust your resources in real-time to meet demand. This can be particularly beneficial for businesses that have peak times, such as e-commerce stores during the holiday season or a startup that experiences rapid growth.
3. Using Reserved Instances
Reserved instances are a billing concept used by some cloud hosting providers that offer significant discounts if you commit to a long-term contract. While this does require a larger upfront payment, the cost savings over time can be substantial.
Managed Cloud Hosting Services and Cost Optimization
When it comes to cost optimization, managed cloud hosting services can offer several advantages. Firstly, these providers typically have a team of experts who can help you right-size your server and optimize your resources. This can save you time and money in the long run, particularly if you're not an expert in cloud hosting.
Secondly, managed cloud hosting services often include advanced features like automated backups and enhanced security. While these do come at a premium, they can save you money in the event of a data breach or loss.
Monitoring and Reporting Tools
To effectively manage and optimize your cloud server costs, it's important to use monitoring and reporting tools. These can provide valuable insights into your resource usage and help identify areas for potential savings. For example, you might discover that you're paying for storage that you're not using, or that your server is more powerful than you need.
For businesses based in Dubai or the wider UAE, there are some additional considerations when it comes to optimizing cloud server costs. Firstly, data sovereignty laws mean that some businesses need to store their data within the UAE. This can make international cloud hosting providers more expensive, so it's worth looking into local providers.
Secondly, the cost of internet in the UAE is relatively high compared to other countries. This means that data transfer costs can quickly add up, so it's important to monitor your data usage and look for ways to optimize.
Conclusion
Cloud hosting is a powerful tool for businesses of all sizes, but it's important to manage your costs effectively to get the most out of your investment. By right-sizing your server, taking advantage of scalable solutions and reserved instances, and using a managed cloud hosting service, you can significantly reduce your cloud hosting costs.
And remember, whether you're running a cloud server in Dubai, the UAE, or anywhere else in the world, monitoring and reporting are key. Only by understanding your usage can you identify areas for potential savings and ensure that you're not paying for resources you don't need.
Frequently asked questions
Cost optimization in cloud infrastructure refers to the process of reducing overall expenditure on cloud services without compromising the quality or performance of your applications. This is achieved by efficiently managing, controlling, and right-sizing your cloud resources to match the needs of your business.
Optimizing cloud storage costs can be achieved through several strategies:
Deleting Unnecessary Data: Regularly clean up and delete data that is no longer needed.
Data Compression: Compress data before moving it into the cloud to save on storage space.
Tiered Storage: Utilize tiered storage options, moving rarely accessed data to lower-cost storage tiers.
It is important because as the volume of data grows, so does the cost of storing that data in the cloud. Efficient management of cloud storage can lead to significant cost savings.
There are several strategies used for cost optimization in cloud:
Right-Sizing: This involves aligning your cloud resources with your actual usage.
Increase Elasticity: Auto-scale your resources based on demand to avoid paying for unused capacity.
Leverage Reserved Instances or Savings Plans: These offer significant discounts for upfront commitment.
Spot Instances: These are spare cloud instances you can bid for, often at a significantly lower price.
Using Cost Management Tools: These tools can help track and control your cloud spend.
Cost optimization in AWS involves using the tools and best practices provided by AWS to reduce your overall spend on their cloud services. AWS provides a number of cost optimization tools such as AWS Cost Explorer, AWS Budgets, and AWS Trusted Advisor, and strategies like right-sizing instances, using spot instances, and purchasing reserved instances or savings plans.
Cost optimization for a virtual server can be achieved by:
Choosing the Right Plan: Choose a plan that fits your needs. Don't overestimate your resource needs.
Using Auto-Scaling: Use auto-scaling to dynamically adjust the resources based on the load.
Leveraging Reserved Instances: If you have steady and predictable workload, reserved instances can save money.
Off-Peak Hour Usage: If possible, run large jobs during off-peak hours when costs might be lower.
Monitoring and Tracking: Regularly monitor your resource usage and make adjustments as necessary.
SaaS cost optimization refers to the process of minimizing the costs associated with Software as a Service (SaaS) subscriptions while maximizing their value. This can involve strategies like eliminating redundant subscriptions, negotiating contract terms, utilizing usage data to downgrade or cancel underutilized subscriptions, and consolidating SaaS applications with a single vendor when possible.
For reliable cloud server in UAE get in touch with ASPGulf