Private cloud infrastructure is a distributed computing model of secure cloud environment adhering to security, data privacy issues with security being paramount as the entire business relies on data and core application. The private cloud offers ideal way for many organizations to meet their business and technological challenges. This cloud models helps in reducing costs, increasing on efficiency and introducing new innovative business models being more agile, simple in operating and infrastructure. In comparison to public cloud computing, private cloud is typically hosted within a company's firewalls. On the other hand some companies host their private cloud with third party, and the deployments are done in an external compute resources based on demand.
The technical mechanisms used to provide the different services which can be classed as being private cloud services can vary considerably and so it is hard to define what constitutes a private cloud from a technical aspect. The services are usually categorized by the features that they offer to their client.. Private cloud services drawing their resource from a distinct pool of physical In contrast to the public cloud with multipole clients accessing virtualized services which draw resource from their same pool of servers across public networks. Extra layer of security offered by the ring fenced cloud model is perfect for any organization, including venture, that necessities to store and process private information.
The extra security offered by the ring fenced cloud model is perfect for any association, including venture, that necessities to store and process private information or do delicate assignments. Managed Private Cloud hosting solutions are designed for ease of use and scalability, ensuring that the user's needs are always met. Payments are based on the resources booked on a monthly basis. Our Private Cloud service is similar to the traditional model of individual LANs that were commonly used by enterprises in the past.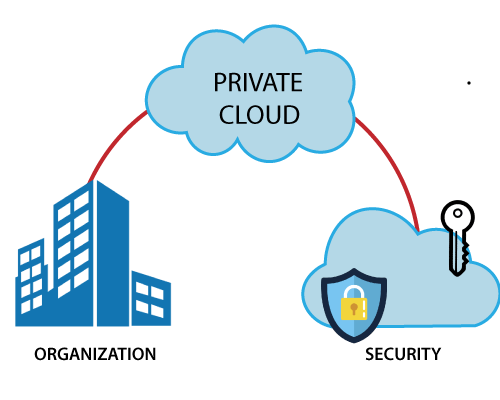 Increased Security and Privacy
The public cloud services can implement a certain level of security but private clouds-using techniques as distinct pools of resources The resources Higher security and privacy; public clouds services can implement a certain level of security but private clouds – using techniques such as distinct pools of resources with access restricted to connections made from behind one organization's firewall, dedicated leased lines and/or on-site internal hosting – can ensure that operations are kept out of the reach of prying eyes.
Single Control
Private Cloud model is accessible only to single organization. The ability to manage configure in align with their needs to be achieved for tailored network solution. However this level of control removes the economies of scale generated in public clouds by having centralized management of the hardware.
Efficient cost & energy
The implementation of private cloud will help an organization to improve the allocation of resources within an organization by ensuring the availability of resources to individual department/business functions. This will enable in responding directly to their demand. Although they are not cost effective as public cloud services due to their economies of scale and higher management cost. The efficient use of computing resources than the traditional LANs by reduction of investment in the unused capacity. This also allows in reducing the cost and reduction of organizations carbon foot print.
Enhanced reliability
The resources are hosted internally, the creation of virtualized operating environments means the network is robust to individual features. Virtual partitions can, example pull their resources from the remaining unaffected servers. In addition, cloud is hosted with third party, the organization can still benefit from the physical security afforded to infrastructure hosted within data centers.
Additional resource
Cloud bursting related to when a situation arises when the application required additional resource (computing, power, storage, etc), during the time of special event happening. This may add some complexity to the application design but there are vendors providing hybrid cloud solutions that facilitates in taking advantage of cloud bursting. This service will allow private cloud provider to switch from certain non-sensitive functions to a public cloud to free up more space in the private cloud for the sensitive functions required.